The Marriage Course > The Marriage Courses Online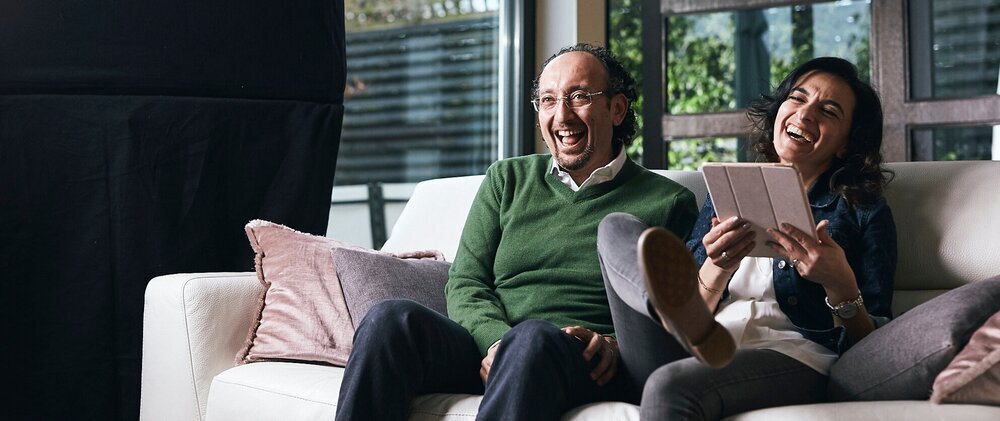 The Marriage Courses Online
As many areas around the world enforce strict measures to control Coronavirus, we have been receiving questions on how to move The Marriage Course or The Pre-Marriage Course online. Below are our best 'good practice' resources. In addition, here is a link to watch a training event on How to Run the Marriage Course Online.
---
Helping couples cope
Recent news headlines have mentioned that some couples have been struggling with spending too much time together at home during coronavirus self-isolation, even leading to a divorce spike in certain countries. We've created a few helpful videos offering tips from Nicky and Sila on how to cope as a couple while both are potentially working from home and practising social distancing or self isolation. We encourage you to share this with couples that you think may benefit from these tips.
---
Download the special TMC online episodes from The Marriage Course Builder.

We have created episodes with the conversation timings built in so you and your guests can watch the episode the entire way through. Please access the videos from

The Marriage Course Builder

.

Choose an online platform for hosting your course before the session.

It's important for many courses to facilitate the course even as it's running online. If so, we recommend zoom, Skype and Google Hangout for hosting smaller courses and platforms with a livestream or webinar function for larger groups. The Marriage Course is now available with full conversation timings built in if you would like to livestream your course.

Schedule your call on the platform.

Email or text an invite to your guests with a link to the meeting.

Have all your materials ready.

Prior to your session, make sure you as the host have the episodes ready and your guests have their Study Journals (they are available to order from

here

or you can download a pdf version off

The Marriage Course Builder

and share with them).

Host your call.

Host it like you would an online conference call. Be animated and lively as that extra bit of friendliness will go a long way. Share the video via a private or password-protected link in the chat box so guests can go on and view the link by themselves.

Follow up.

Thank the group for their time, remind them to do Continuing Conversations before the next session, and include the call link for the next meeting. You might also want to share the episode with the guests so that couples can review it by themselves again later in the week. Ask for feedback as we're all so new at this!
For a more detailed guide on how you can host The Marriage Course online, click the button below (please note this document is currently under revision and a new one will be updated shortly).
*Support Couples: The Pre-Marriage Course includes offering a Support Couple. It is also very easy to run a Support Couple meet-up remotely. To learn how, click here.
---
"I just wanted to say thank you for making The Marriage Course available online. We've always wanted to participate in the course, but having a severely disabled child, it's virtually impossible to get a babysitter. This has meant we've never been able to participate in the course when it's been running at our church. Now that it's online, we can join in and we've already got so much out of it just in the first session. Thanks so much!

— Heather S.
---
Top Tips
Online Hospitality
Online Marriage Courses can still keep up good hospitality
Communicate well

: Send weekly emails or messages re-capping last week's talk/discussion and ask guests to share their thoughts. Make sure to check-in if a couple has missed a night.

Session engagement:

Make sure the course host is engaging right from the beginning of the online session – saying hello to people, asking questions, telling jokes. Keep your communication platforms open throughout the evening in case any guests have questions or comments they'd like to speak with you about.

Chat functionality:

Encourage the team and guests to utilise chat functionalities to comment and ask questions before or after the episode.

Setting the mood:

Have the course hosts encourage the guests to set the mood in their own homes, making sure they are seated comfortably with snacks and food on hand. A few clever groups have even taken to ordering delivery or sending date night boxes to their guests' homes before the session – now that's hospitality!
Host Preparation
Internet Connection

: If you are hosting TMC Online, make sure you have a strong internet connection. If possible, plug directly into an ethernet cable.

Equipped with Resources

: Make sure the hosts have the videos ready and access to your chosen digital platform.

Lights, camera, action:

As hosts, it's helpful if your screen is decluttered and showing a nice setting so take time to frame your shot. Your energy as the host is also essential so don't be afraid to be friendly and warm.
Ensure Private Conversations
Ask guests to be on video at the beginning of the session. Encourage couples to be on the same screen.
Once the series begins, encourage couples to turn off their video but stay on the platform in case they need help or have questions.
Ask guests to join in a quiet environment if possible and wear headphones if need be.
---
Not ready to run an online course yet?
Try a course online
We always recommend taking the course in a facilitated environment and course leaders all over the world are hosting TMC online now. To find a course near you, visit our course finder.
All you will need is to purchase two Study Journals (one for you and one for your partner) prior to the course. Visit our store to order.